Who We Are: Pedro Barbieri, Arable Brazil Operations Manager
Meet Pedro Barbieri, Arable Brazil Operations Manager and master multi-tasker. He checks in from Sao Paulo where he runs – and grows – customer relationships. Here's his story.
Pedro is one of those people who can't sit still. Always on the move, he's usually doing more than one thing at a time, and thinking it through fast. It's a skill that makes him the consummate project manager and enhances his experience as a lifelong musician.
An agronomist by trade, a field he chose because it encompasses engineering and biology, his early education started at a conservatory where he played saxophone. He was on a path to professional musicianship, and followed the family rule: everyone learns to dance and play an instrument – and then ideally join the marching band the clan started more than 100 years ago.
After a few parades full of horns, wine and song, Pedro traded the sax for agronomy and started university. He later learned guitar, but his career in agriculture brought experience in business planning, start-ups, and product development and launch. With a demonstrated dedication to improvement based on customer needs, he landed on agtech and Arable.
"I never wanted to do something so specific in my whole life until now," he explains. "My goal is for Arable to become the main tool that farmers and cooperatives use for planning. I want to help them increase yield, reduce costs, and use fewer resources."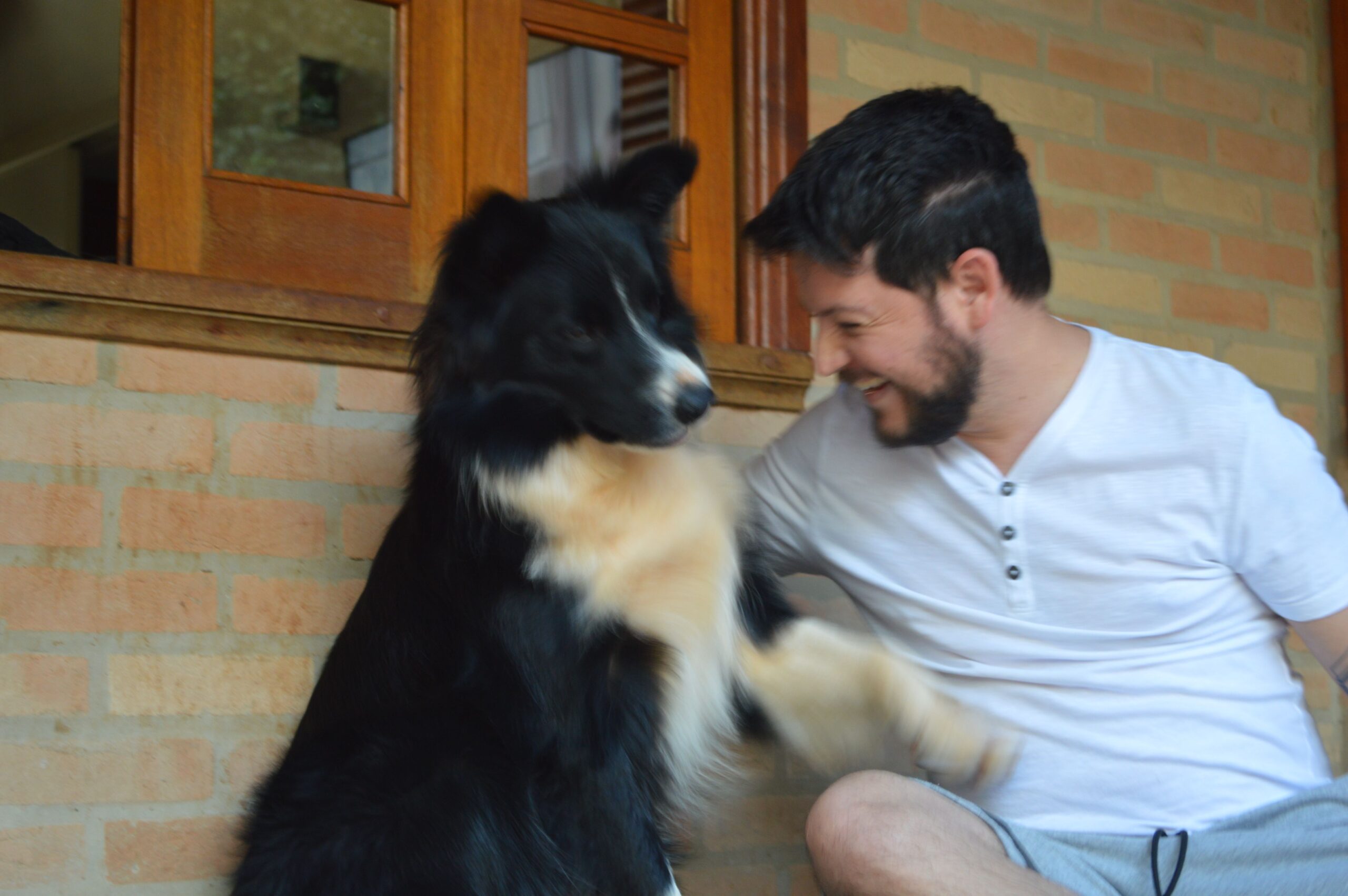 Pedro with his doggo, Luke.
A quick problem solver, Pedro thrives connecting the dots that make business better. With his first sip of black coffee, he checks on customers at some of the 30 companies relying on Arable Mark devices in fields of corn, soy and sugar. He sips throughout the day to keep his energy up. "I think if I stopped drinking coffee, my heart would stop beating," he says, only half joking.
Typically active and on the go, Pedro is often found rock climbing or setting up a Mark with customers in the field. The pandemic, however, slowed him down. For now, he guides installations on screen via apps and remote devices. He also just cancelled plans to run with the bulls in Pamplona for the second time in a row. "Everyone thinks I'm crazy, but I really want to do it," he says. "I'm hoping for next year."
With more time at home, Pedro focused on another talent: DIY. He's curious and creative, and likes to figure out how to craft things by hand. "I want to make my own – insert word here – is a common phrase in my life," he explains.
In the past, he built wooden furniture, including a floor lamp and bed frame, household items he uses every day. He also perfected sourdough baking years before the pandemic piqued interest on Instagram. Most recently, he tried to coax chocolate from raw cacao.
Bean-to-bar chocolate proved to be more difficult than he thought, so he stopped and decided to reassess. "I'm taking my time to figure out what's the next creative thing to make," he says. And in the meantime, he's connecting with growers and making plans to meet in person, as soon as it makes sense.
Want to get in touch with Pedro? He'd love to hear from you.Email Pedro.
Want learn more about Arable in Brazil? Read our conversation with Dr. Lineu Rodrigues, one of the world's leading irrigation experts, or this blog post on how data can help Brazil meet global demand for its agricultural products.