Who We Are: Scott Geiger, VP Manufacturing & Supply Chain
Introducing Scott Geiger, Arable VP Manufacturing & Supply Chain. Scott oversees every aspect of product manufacturing, from sourcing the silicon in the ground to the moment a customer activates a shiny new device. In short, he's the one who gets the Mark made. Here's how he does it.
Remover of obstacles, eliminator of bottlenecks, Scott thrives in creative, ever-changing environments. During his 20 years at HP, he was part of a lean innovations team that invented new products, many of which grew into lines of business – technologies taken for granted today. At Cisco, he helped launch Linksys. Six start-ups later, he joined Arable.
Efficiency, flow, and solutions that save time and resources are in Scott's DNA. Faced with a snarl of rush-hour traffic, he fires up his Ducati 999, an Italian racing bike, and splits the 101 freeway lanes to glide between cars. The result? A 50% reduction in expected four-wheel drive time.
Maximizing efficiencies – and having fun at it – is how he lives life. "I don't have a personal Scott and a work Scott," he says. "I like to be myself at work. It's about authenticity. I also have a funny, silly side that I don't hide."
Scott laughs a lot in conversation, which makes him approachable and plays to his strength as leader, both at home and at work. As a volunteer Junior Achievement instructor in local elementary schools, he guides the next generation toward success. He also works with a long-time coach of his own and proactively mentors his direct reports, a continual push for improvement.
"I'm different from a lot of managers because I assume that all of my employees are transient," Scott explains, "so I ask them about what they want to do next, where they want to be five years from now. I tell them 'I will be so happy some day when you hire me.' I know it's going to happen."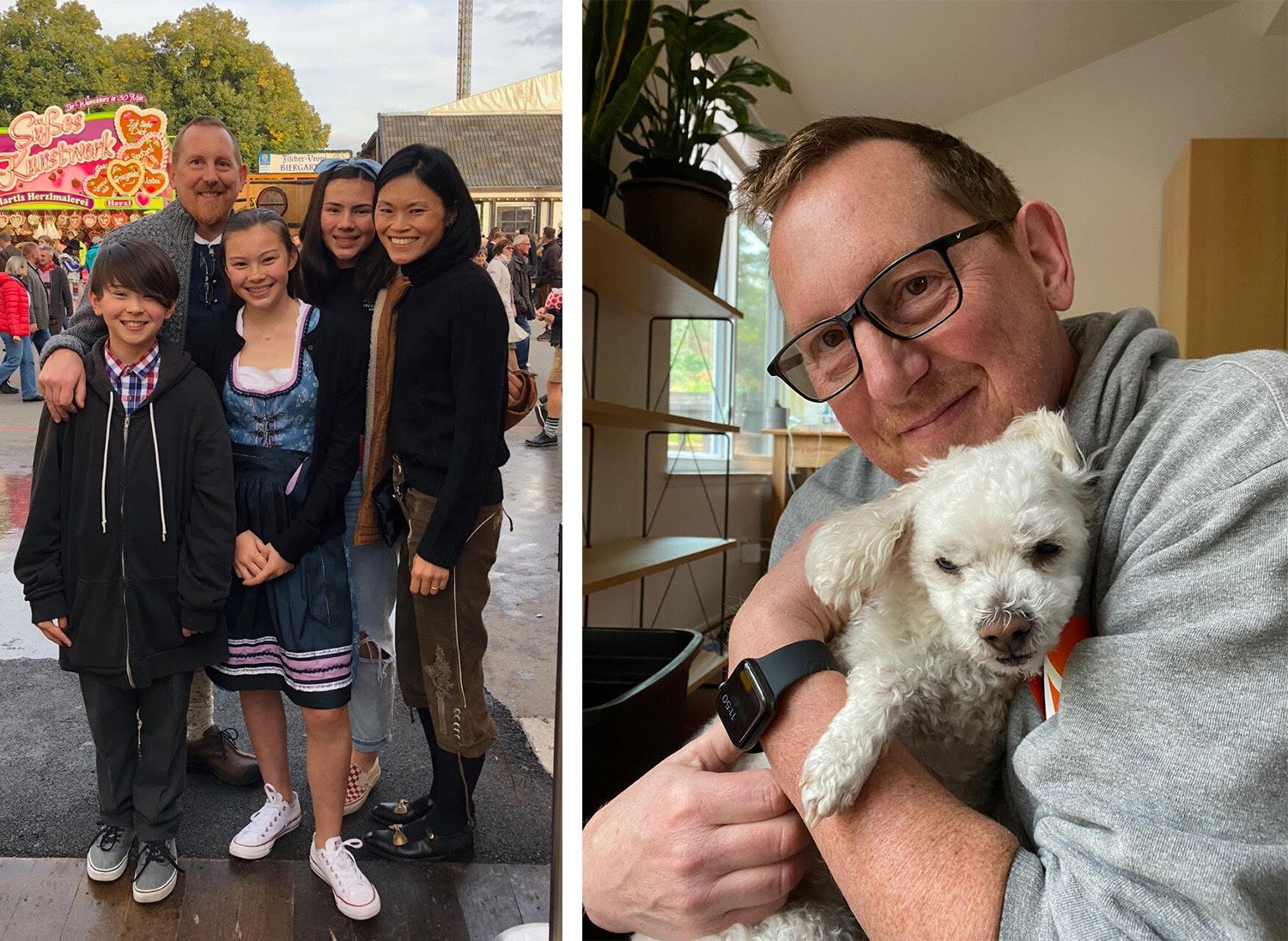 (L) Scott with his family at Oktoberfest in Munich, where they lived when he worked for eGym. (R) Scott Geiger at home giving Ollie some love. Photos courtesy Scott Geiger.
Scott's also a self-proclaimed neat-freak. He loves to clean and organize the home he shares with his wife, three teenagers, and a blind puppy named Ollie, in San Mateo, California.
"I like order and everything in its place," Scott shares, noting that he also enjoys cooking and preps and measures his ingredients in advance. "I find it relaxing."
For dinner, he often makes his signature dish, a creamy potato, leek, and broccoli soup laced with warm Mediterranean spices. It holds a special place on the family table because it was the first meat-free meal that pleased everyone after one of his daughters went vegetarian. A small victory, but a delicious one – and a solution to a nightly kitchen logistics problem.
Want Scott's recipe? It's in 'Recipes for Disaster: The 2020 Arable Family Cookbook,' a perk for employees only, but we're hiring!