Who We Are: Vilas Rao, Arable Chief Revenue Officer
Introducing Vilas Rao, Arable's new Chief Revenue Officer. Vilas comes to us with a passion for sustainable agriculture, economic development, and the outdoors. He traces his interest in agriculture back to a summer he spent in Kathmandu while in graduate school. "It was the beginning of the trail of breadcrumbs that led me to Arable," he says.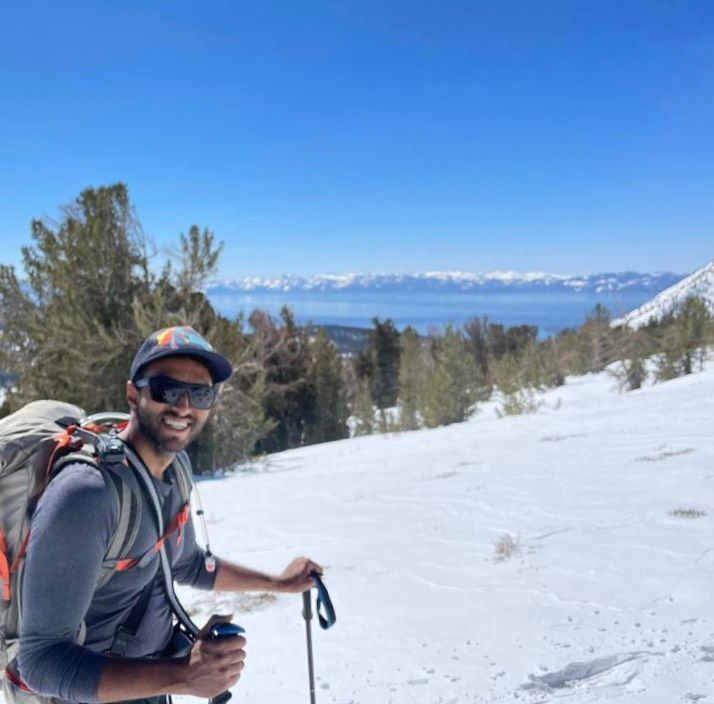 Vilas Rao skiing in Lake Tahoe.
Over the course of that summer he ventured to smallholder farms in Nepal's foothills, learning about growers' challenges accessing loans and technical assistance. Farms were small, far apart, and considered too risky by regional banks to lend to, so they formed cooperatives and microfinance associations to organize support and manage risk.
That initial experience gave Vilas a brief glimpse into the opportunity for improved methods of connecting with farmers to transform livelihoods and drive sustainable farming practices.
That same idea brought Vilas to The Climate Corporation & Bayer Crop Science, where he led digital strategy and overlapped with Arable CEO Jim Ethington for a few years. While there, he helped evolve FieldView from a pioneering start-up in the new space of digital agriculture into a robust enterprise-level data platform, allowing growers and their business partners to collaborate around a data-driven understanding of their operations.
Now, he is excited to help bring Arable to the next level. "I'm super excited about Arable's emphasis on quality data for customers. That gives it tremendous potential and has generated fantastic momentum. I've also joined an extremely kind group of people who have passion for the space and really want to transform agriculture,' Vilas says. 'I want to make Arable the industry standard for ground truth on the farm."
"Agriculture is the biggest employer and transformer of the planet," Vilas says, "and if you want to have a thriving society, there needs to be a sustainable food system in place."
Vilas's vision is fueled by a lifelong passion for nature and activities like cycling and skiing. The middle son of Indian immigrants, he started young. "My love of the outdoors came from my parents dragging us around in an RV to national parks," he says, adding that his quest to see all of the parks continues (current count: 23).
Those childhood road trips began in central New Jersey – "yes, it definitely exists," he says – in Freehold, a hometown he shares with Bruce Springsteen. "'Thunder Road' is the best song of all time," he states, throwing down a gauntlet.
These days, he listens to the Boss on vinyl in the San Francisco flat he shares with his wife and 9 month-old daughter. The new family enjoys treetop views of Golden Gate Park with Mount Tamalpais in the background, a peak with an elevation higher than the icy slopes of the Poconos where he learned to ski.
Now, Vilas hikes in for powdery runs not found on resort trail maps and is an incessant follower of the weather. He may be a Californian, but Jersey pride runs deep. "Once you can ski on the East Coast, you can ski anywhere," he says. A truth on the slopes – and in life.
Welcome to Arable Vilas!