Three friends, Richard (Dick), Darren and Dave, each with different professional backgrounds and skill sets, shared an ambition to bring the latest in relevant, reliable and profitable technology to Australia's primary industries. In 2018, they turned their shared ambition into a mission statement and founded D3Ag.
Here, Richard shares why D3Ag chose the unique weather and crop monitor as their flagship product and how this led to the creation of the US-Australia partnership that delivers this simple, reliable, complete technology into the hands of the Australian ag community.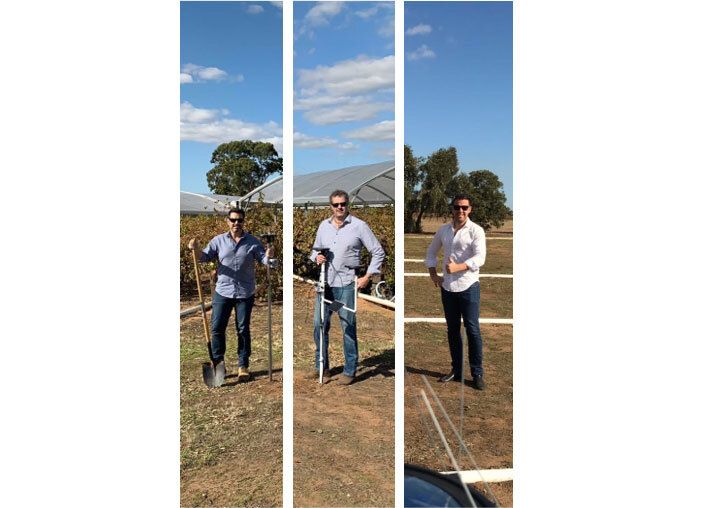 Bridging the Gap
In my role as Managing Director and founder of applied research company AgXtra, I see a lot of new technology, and assess its application in what you might call "real world scenarios". I think it is widely accepted that there is often a gap between a developer's innovations and their intended target market, the ag community. It is that gap that D3Ag seeks to bridge.
There needs to be a valid value proposition when bringing new technology to the market. This is not always top of mind for developers, who are often driven by their incredible ability to create something unique but which doesn't necessarily bring value to the end user. It won't save time or money or make a task easier — it will not create value.
I have also seen good technology not make it to market because the developers fail in that final step of choosing appropriate and effective pathways to market, or have not hurdled the obstacles encountered with early adoption.
Choosing the Tech
This can be broken down into two areas: Product and Partner.
Product
The product must be a quality piece of technology that is also cost competitive. It must have a degree of uniqueness about it, that also creates value for the end user — something that will make a difference. It must be near market stage of development.
Partner
In a partner we look for value alignment and cultural fit. We need people we can work well with, who have high integrity and in whom we can trust. We look for a demonstrated history of performance and delivery in the development phase.
Enter Arable Labs and the Mark 2
I was approached by Jess Bollinger, VP of Strategic Partnerships at Arable Labs back in early 2018. Our discussion was around this new device and whether I would be interested in trialling one. At that time, the intended market was the research industry, and so I progressed an order for one unit.
At AgXtra we have a real need for remote sensors to be on-site with our range of projects that extend from Lock on the Eyre Peninsula to Donald in Victoria and Temora in NSW. Every year we change location of our sites; we don't have set research farms, instead choosing our co-operating growers and paddocks to meet the changing needs of our clients. But we still need to have access to real-time information as we make decisions about what field activities to schedule, and where to allocate resources. The Arable solution looked like it would provide the right data capture, with the mobility we required.
First Impressions are Everything
Packaging
The first thing that I appreciated when the Mark was delivered was the packaging. The device arrived in some robust, stylised packaging that positioned the product immediately as high quality.
Size
The next thing was the actual size of the device. That a crop sensor and weather monitor combined was able to pack all that sensing and communications technology into one small disc, was impressive.
No moving parts
The device has no moving parts; nothing to wear out or break down due to use! This was appealing from the outset. Keep it clean and charged, and there was no other maintenance required — a real point of difference, as was the ability to report rainfall with an acoustic disdrometer.
Ease of use
The device is incredibly easy to deploy and to change location. This was key for us at AgXtra. To be able to shift the device from site to site, without a technician spending a day to do so. Literally 2 minutes and you are done.
The dashboard
The ability to see not just ambient weather conditions, but to track crop health and vigour in the one place was definitely unique. Immediately and conveniently on our mobile phones, we could see how a crop was progressing at a remote trial site; read its water availability and usage. This visibility on the Arable dashboard would make management decisions a whole lot easier.
Extended functionality
Being a researcher, the next thing that was obvious to me was; if it can do NDVI, chlorophyll index, weather forecasting, transpiration rates, and growing degree days; how about extended functionality? Disease prediction modelling, frost alarms, extreme weather alerts, harvest fire index feeds, inversion detection… And my favourite idea; sensing optimum conditions for hay baling, with alarm features. When I fed these thoughts back to Arable, the response was nearly always "yes that is possible", and often followed up with "and we are already working on it".
Two weeks after deploying that first Mark 1 device I contacted David and Darren. This was something they needed to look at. And so began the journey.
A Partnership
In January 2020 D3Ag negotiated an agreement to formalise our relationship with Arable Labs and to be the distributor for Arable in Australia/NZ. It has been a journey into the world of tech development that is quite divergent from traditional business, but one we have taken side-by-side, in partnership with Arable. Together we have evolved an offering that is appropriate for Australian conditions, delivering a unique combination of weather reporting and forecasting along with crop sensing. With so much of that additional unrealised potential now closer to being made available.
D3Ag has been through two years of development work together with Arable. We now have a product that is ready for market, backed by an organisation that has grown rapidly in recent times. We have seen Arable partner with BASF globally, to be the hardware supporting the chemical company's xarvio Field Manager; a program designed to reduce pesticide use. Arable has recently launched in Latin America, and in October 2020 raised $20m US in funding to support global expansion and bolster Arable's ambition to be the most trusted source of data in agriculture.
We are truly excited at what this partnership will deliver for Australian agriculture and where the journey will take us as a business.
For more like this, visit D3Ag's website.