Arable and BASF team up in xarvio Field Manager to reduce pesticides
Fungicides and herbicides are a fact of life on most farms today. Yet shifting climate scenarios and pathogens' adaptive resistance make it difficult for farmers to identify the most cost-effective and sustainable combination of products to use, and can make the optimal application window a moving target. Spray applications represent a substantial proportion of a grower's budget — while seed and fertilizer costs have remained relatively flat over the past twenty years, crop protection costs have nearly tripled from $33/acre in 2000, to around $73/acre in 2017. With added pressure from regulations surrounding spray drift and inversion detection, growers need highly accurate recommendations in real time to optimize decisions and come out on top of a razor-thin profit margin.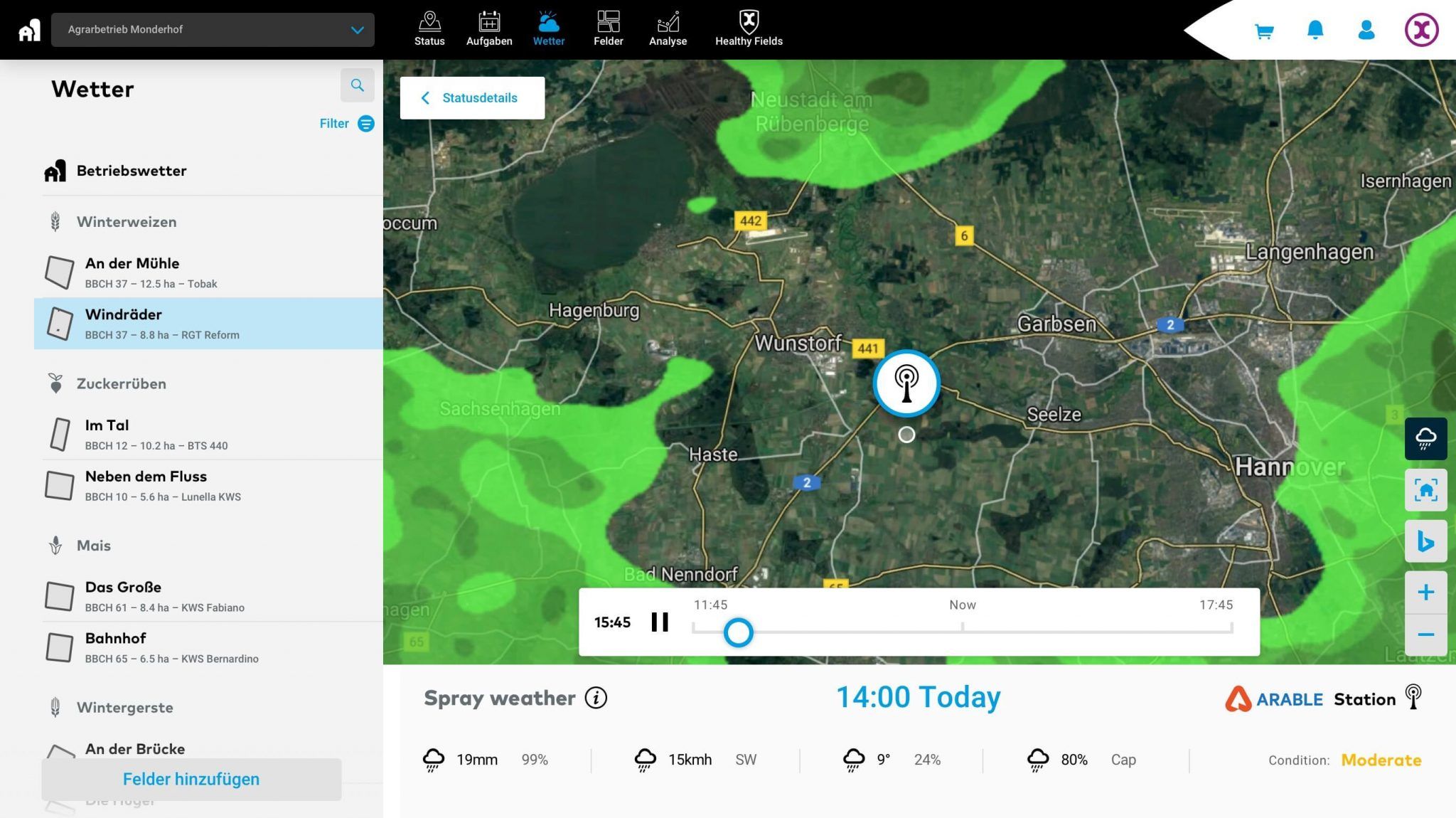 A view of xarvio's FIELD MANAGER web app.
One of the most thoughtful companies tackling this issue right now is BASF, an agronomic institution with more than a century of experience in crop production and protection. Their crop science team works at the forefront of fungicide and herbicide research — understanding the nuanced effects that certain chemical combinations and weather events can have on crop outcomes, as well as on the farmer's bottom line. The xarvio Digital Farming team has taken a unique position in their commitment to healthy fields and reduction of spray applications — surprisingly so, for an ag chemical company. For the past three years, Arable has partnered with BASF's xarvio Digital Farming team to understand the measurements that power their FIELD MANAGER crop optimization platform.
The pilot program deployed hundreds of Arable Mark devices across a variety of representative microclimates to collect field-level measurements including leaf wetness, precipitation, temperature, and vegetative growth. Knowing these critical parameters significantly increases the accuracy of spray window recommendations. In the example below, field-level weather data delayed the initial spray recommendation by twelve days (vs. gridded satellite weather data), while the field remained protected. Other benefits of the trial showed lower environmental stress and an average savings of $30/hectare. Live precipitation data populating the interface increased user engagement by 2x, demonstrating the power of real-time, in-field measurements.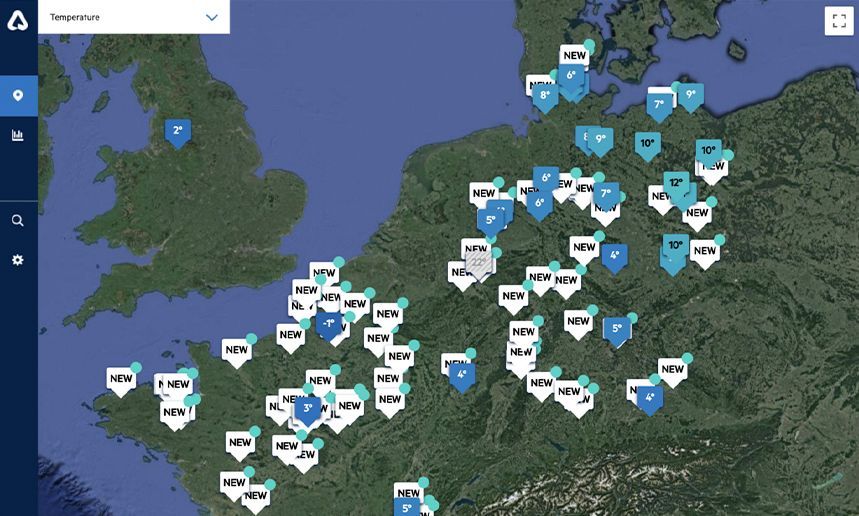 An early Arable-BASF pilot in Europe demonstrated the capabilities of a climate and plant data network.
There are a number of collaborations in the digital agriculture space that surface sensor data via platform partnerships. This is an industry step in the right direction, but still only gives farmers more data to parse through in their already busy lives. What we love about Arable's collaboration with xarvio is how we've brought together the best of crop science and in-field measurements to deliver easy-to-follow recommendations to the grower. We believe in the power of useful data, and the possibilities that this initial collaboration points to in future applications.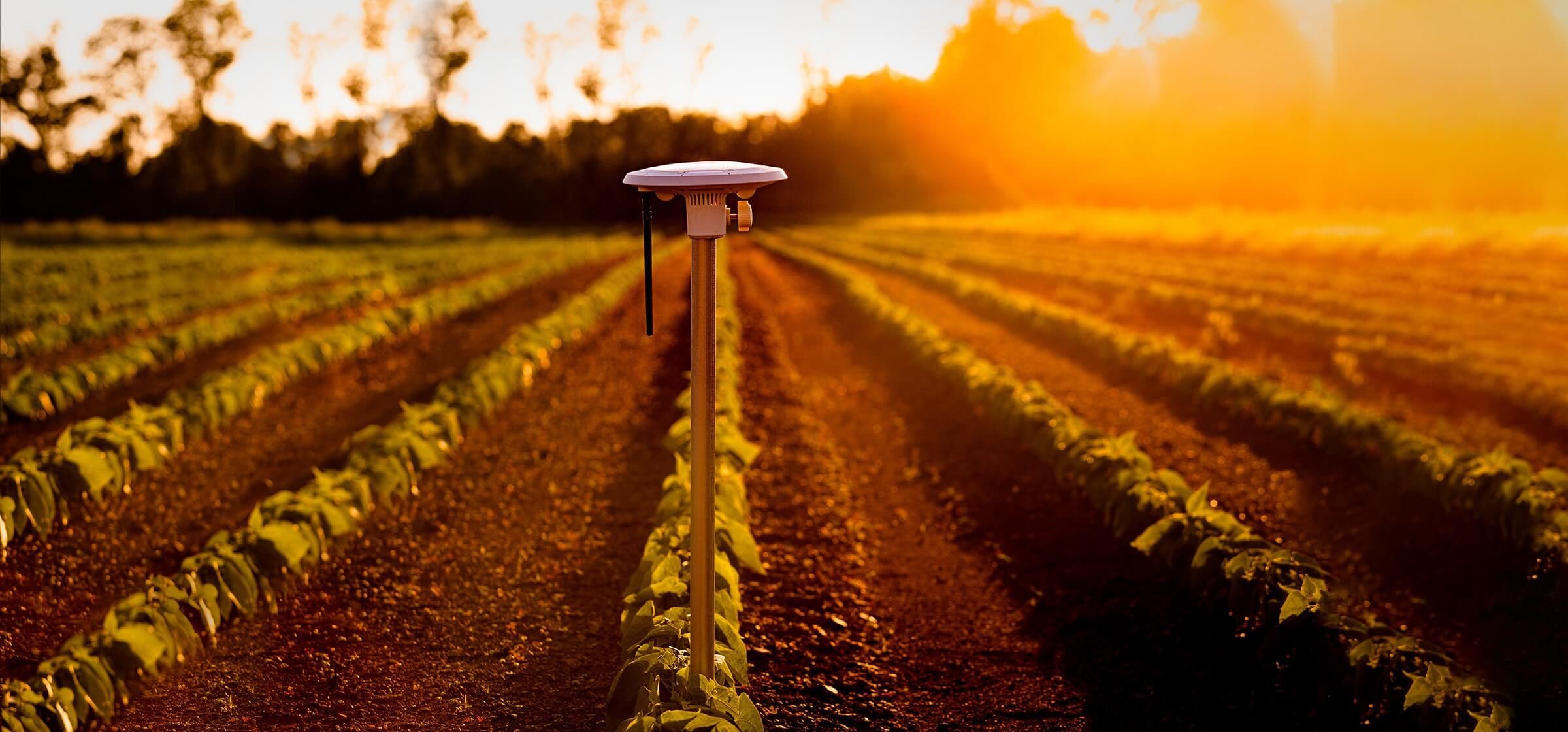 The Arable Mark 2.
In parallel with the announcement of xarvio FIELD MANAGER powered by Arable, we are launching our second-generation weather and crop analytics device, the Mark 2. From our experience and research over the past two years since the launch of the Mark, we've made considerable hardware upgrades. One such improvement is a new nanocoat technology to strengthen the device's resistance to spray and the elements, allowing it to remain in the field collecting uninterrupted data throughout the year. Enhancements like these are made with practicality and convenience as our top priority. In this vein, while much of the emphasis of the trial has been on improved recommendations, Arable and xarivo have also focused on creating a seamless end-to-end integration of the two technologies. From direct ordering, through easy installation, to an intuitive user interface on both web and mobile, the partnership aims to reduce farmers' headaches by delivering a valuable product people actually want to use.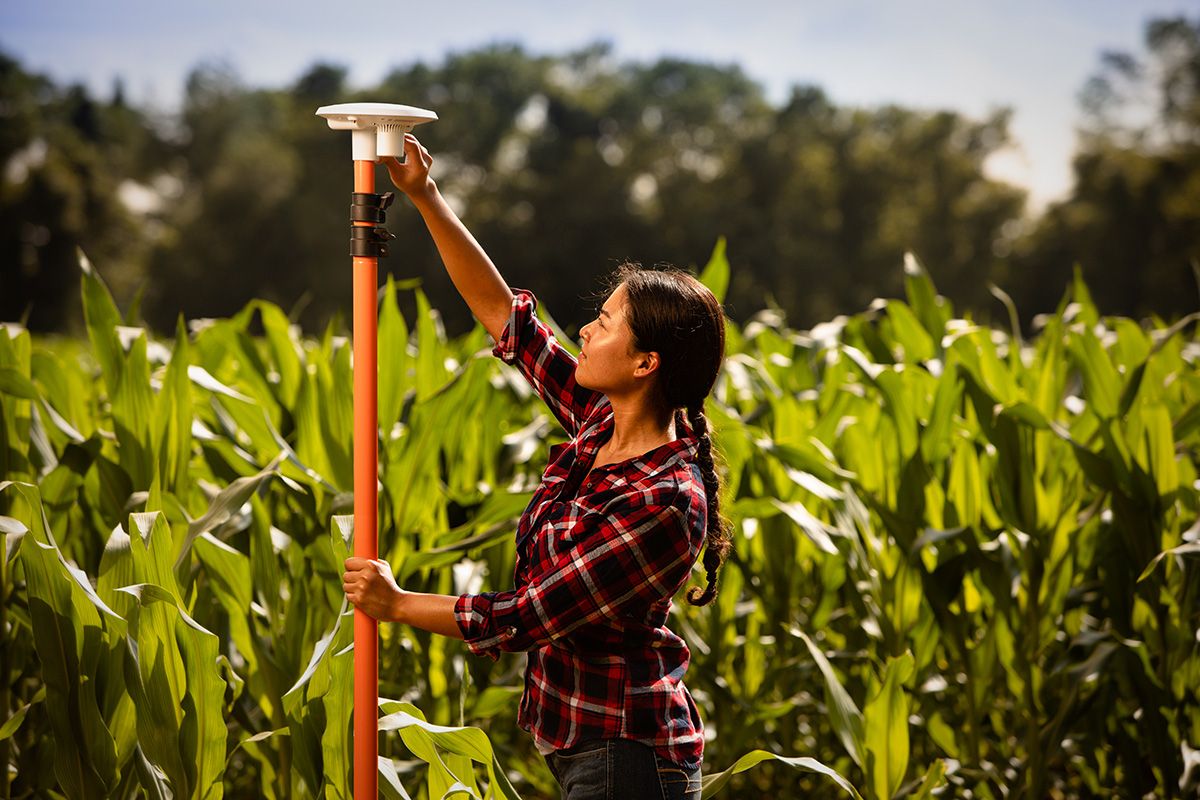 The Mark 2 measures both climate and plant data in one simple device.
Arable's full integration with xarvio FIELD MANAGER is available for pre-sale now in France, Germany, United Kingdom, Ukraine and Poland, with additional countries to follow during the 2020 growing season. Signing up through xarvio gives growers a special discount on the hardware-software package. As this partnership moves out of the pilot phase and into farmers' fields in 2020, Arable is proud to be part of BASF's visionary approach to the future of land and water stewardship, and long-term support of farmer livelihoods.