How $4M in NSF-Funded Work Fills Data Gap to Improve Farmers' Climate Adaptation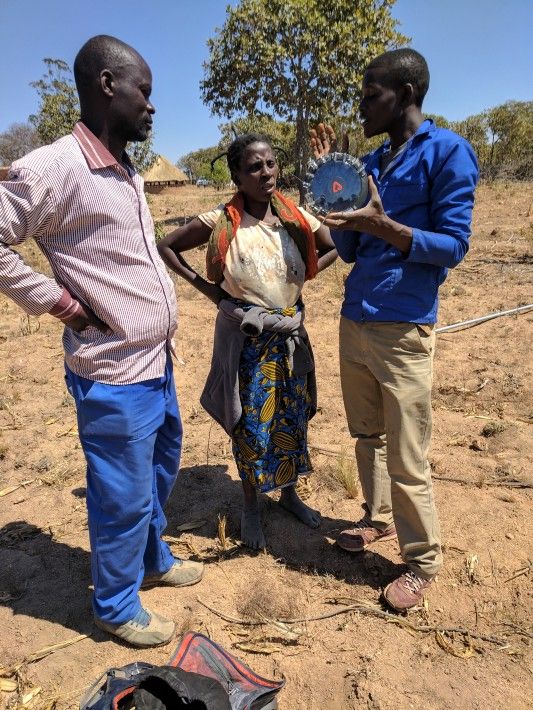 Researchers deploy Arable Marks to collect microclimate and crop data near Choma in Zambia. Photo Courtesy of UCSB Bren School of Environmental Science & Management
Nearly one year after installing microclimate measuring tools in the maize fields of Zambia, a team of researchers returned this August to expand a multi-year, National Science Foundation-funded project studying small farmers' decision-making in the face of climate variability.
Scientists from Zambia Agricultural Research Institute, Indiana University, and University of California, Santa Barbara collaborated to deploy 60 new Arable Marks in the semi-arid Southern Province with two goals in mind: to gain insight into how farmers' decision-making impacts yields, and to to help researchers understand these impacts in developing more efficient modeling tools.
According to Allan Chillenga, Agricultural Research Officer at ZARI Mt. Makulu, 80% of farmers in Zambia are small-scale, embodying a diverse set of traditional knowledge and practices, as well as harvesting a large amount of the country's food supply. Understanding how different farmers adapt to ever-increasing climate variability is critical to food security and preserving livelihoods, on both an individual and collective scale. "Management decisions such as when to plant and harvest can have marked impacts on yield, and we're trying to understand that in a context where there is relatively little data available at the household level, and poor meteorological data," says Chillenga.
Indiana University Professor of Geography Dr. Tom Evans agrees, noting that "the network of meteorological instrumentation is relatively sparse in Zambia compared to many countries. This data gap is a serious challenge in a country where so many households are reliant on subsistence agriculture where droughts and dry spells frequently affect crop productivity. Some will adjust planting dates as they consider possible long-term changes in rainy season onset, while others will maintain what they consider tried and tested farm management decisions."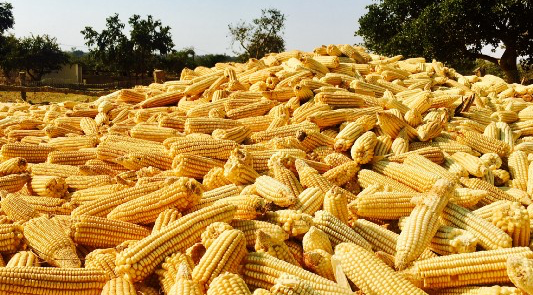 Understanding microclimate and farmer decision-making is critical to advanced knowledge of seasonal outcomes and optimal natural resource management. Photo Courtesy of UCSB Bren School of Environmental Science & Management
The researchers' installation aims to provide real-time technology to leapfrog the path that more developed countries took in deploying their meteorological and environmental monitoring systems over the decades, a process that cost billions of dollars in the United States and would be untenable — and unnecessary to replicate — in Zambia. Ultimately, the project will provide high-quality information to decision makers at different levels — from farmers to agricultural extension officers to representatives in ZARI's parent Ministry of Agriculture — in understanding how multiple levels of stakeholders can interface to improve farm management and crop yields beyond existing field trials.
Dr. Evans continues: "Our team's approach is to marry the hourly data coming from the 60 Arable Marks with high-frequency information from more than 1,000 farmers collected via SMS on mobile phones. With this rich data integration we can better understand regional patterns of rainfall and other environmental conditions and how farmers are reacting to those conditions at unprecedented spatial and temporal scales of analysis."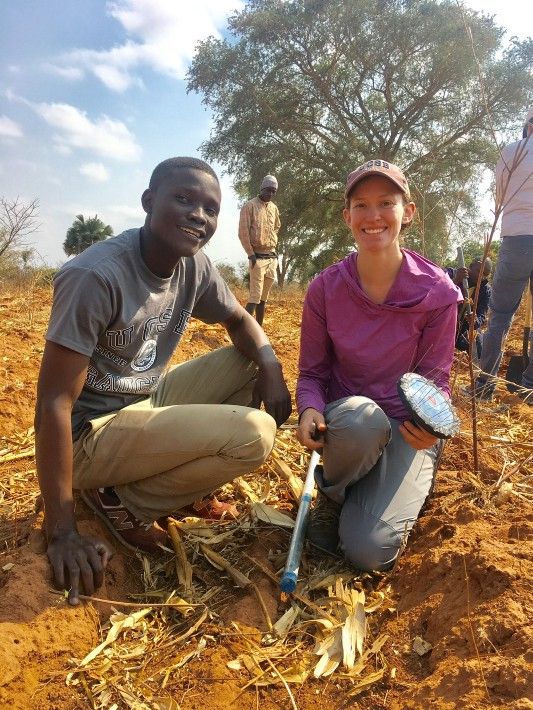 Photo Courtesy of UCSB Bren School of Environmental Science & Management
Beyond the essential environmental data collected by the Marks, the social data gleaned from the farmers' SMS reports constitute an invaluable innovation in understanding climate resiliency and adaptation on a human scale. So far, the reaction to the initiative on the ground has been enthusiastic. Dr. Kelly Caylor, Director of the Earth Research Institute at UCSB, says: "It was exciting for us how willing people were to host these sensors in their fields. There was a real sense of enthusiasm, as well as a little pride too."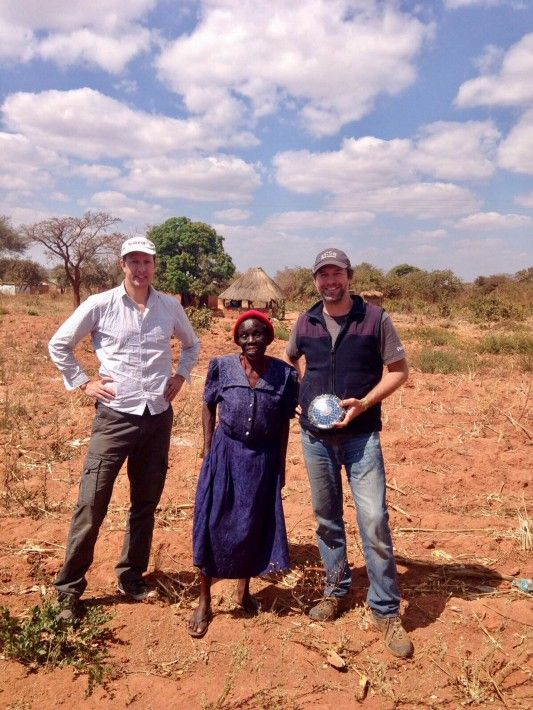 Translating the empirical data into a solid understanding of how real people react, in real situations, in real-time can only augment the effectiveness of future decisions, whether made by farmers, computer models, or governments. But it can't stop there. Some of these communities may not have computers or experience with spreadsheets. Dr. Caylor asks, "What can we do to provide synthesis and actionable information via something as simple as a text message?" One challenge for the researchers that is integral to the success of the project is to figure out how to relay all the gathered data back to the farmers in a practical way.
Last year, Zambia was the only southern African country to produce a surplus of maize, growing roughly 2.87 million tons. This year, harvest is expected to top 3 million tons, signaling the need to either lift the ban on grain exports or invest in more storage infrastructure capacity. Here we can see how real-time, field-level data has the potential to not only inform day-to-day operational management, but build responsive supply chains and direct project finance for greater, long-term resiliency. Data synthesis and user-centric design at the farmer-level are the first steps in cutting through the ambient noise and improving our ability to model, predict, and adapt on a macro-scale.