Planting Our Seeds and Watching Them Grow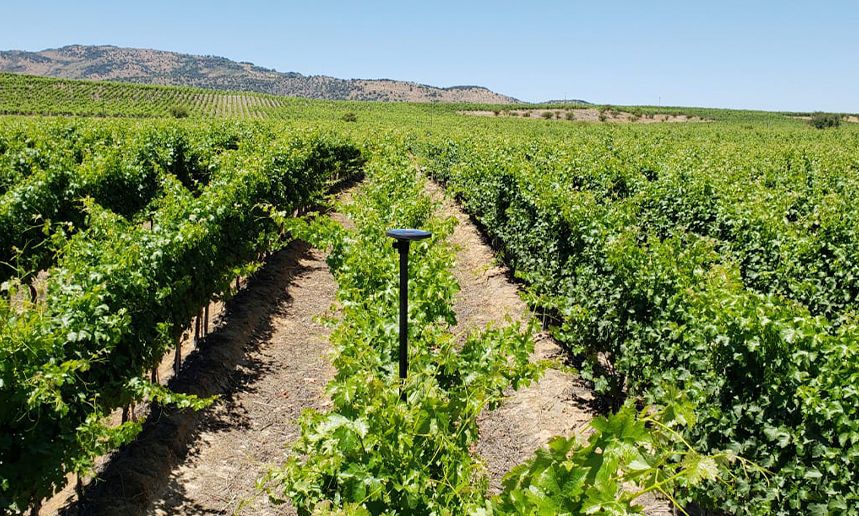 The Arable Mark in a Chilean vineyard.
Since I joined Arable in July, our team has made incredible progress and achieved many important milestones. I wanted to take this opportunity to thank each and every one of our customers for your support, your invaluable feedback, and your business. At Arable, we believe that there is nothing more important than our customers' trust, and that we need to work tirelessly to earn it and keep it. As we enter 2019, we look forward to delivering on this commitment by bringing out products that exceed your expectations and are backed with world-class support and people. I wanted to share a few thoughts on some of our highlights from 2018, but first to outline some of our outlook on the future.
The next revolution in agriculture will be defined by our
ability to optimize data-driven crop productivity.
We are now at the beginning of the next revolution in agriculture. It is a race to connect farm fields around the world with useful, valuable data, and will be defined by our ability to optimize data-driven crop productivity, from the smallholder to the mega farm. My experience over the last 10 years, and what I've heard from many of you, has told me that across the industry the promise of this revolution is still far from a reality, but at Arable, we believe that starting with high-quality data, delivered through a system that is easy, reliable, all-in-one, and focused on the needs and use cases of agriculture, can go a long way to helping make that promise a reality.
In addition, we see a confluence of market and technology trends that will enable us to make this product a reality in new and better ways, and to do so faster and cheaper than ever before. A few of the key areas — and a peek into our development focus for the coming year — are advances in communication technology, from new IoT communication networks rolling out around the world that will enable greater connectivity at lower power usage and cost, to the new satellite constellations going up what seems like every month; new sensor technology, making it possible to pack ever more intelligence into simpler and more elegant hardware designs; and the incredible progress that's being made in technologies behind data analytics and machine learning, which are helping many industries, and especially agriculture, to deliver on perhaps the most important element of all this: turning data into value, and into proven ROI for your business.
2018 Accomplishments: It Was A Very Good Year.
2018 started with Arable named in the THRIVE Top 50, and a Best of CES finalist. Adam was selected as a 2018 Innovator to Watch by the NJ Tech Council, and we were listed as one of the 10 best startups in New Jersey by the NJ Tech Tribune. We launched a new marketing web site, partnered on an irrigation efficiency project in Nebraska, and released our Irrigation Overview in our Insights dashboard, allowing users a unified view of water stress, crop ET, and precipitation for building irrigation schedules.

The irrigation overview in our Insights dashboard shows up to 30 days of historical data.
Our hard work in water management paid off with recognition by the Irrigation Association as Best New Product in Specialty Ag, awarded at their annual show in December. Powered by a talented team of 27 (and counting), we've deployed our device in 22 different crops throughout 32 countries, across six continents. New hardware includes Arable Bridge, our auxiliary connector that allows seamless integration with external tools like soil moisture probes, wind speed monitors, and pressure switches. With these accomplishments, we have planted the seeds toward our goal of becoming a connectivity hub at the center of the global agricultural movement.
2019 Goals: Here's To Another One.
We kick off development in 2019 with a new mobile app for on-the-go access to all location, weather, and crop data. Next, we plan to update the web app with a focus on reporting and aggregate information. We're deepening our one-stop-shop ethos by incorporating soil moisture data into our UI. To fuel innovation with Arable Mark data, we are building more robust dev tools. We're also enabling more accurate harvest timing through base customization of growing degree days. Our team has made great strides in data collection in rural areas with often limited connectivity options, and are exploring cellular IoT options like NB-IoT, Cat M, and LoRa. We look forward to improving power and connectivity, enhancing customer access to data, and adding even more agronomic value to what we already offer. Those seeds we planted last year? They're growing.
2018 was a great year for Arable, and while we are proud of our success and excited by the incredible opportunity in front of us, we know that it will only come through hard work, pushing the envelope of innovation, and a relentless focus on constantly winning our customer's trust and loyalty — and that's what we look forward to most in 2019!
Jim Ethington is the CEO of Arable.