Richard Porter of D3Ag on Progressive Growers and Smart Water Use in Australia
In August, I took a trip to Australia to learn more about the agricultural scene Down Under and meet with Richard Porter and David Maggiori, who along with Darren Brakenridge are the powerhouse trio behind D3Ag. Through the launch of a new channel partnership, Arable and D3Ag will provide in-field crop and weather data to farmers across Australia, starting with the extensive grower network that Richard, who is Director at D3Ag, has built over his decades as a passionate thought-leader in the industry.
Australia boasts significant diversity in its ability to grow broad acre crops like wheat and barley, as well as specialty crops like wine grapes. I spent time traveling with D3Ag to some of the farmland that will soon be dotted with Mark devices. The locations we visited included a crop competition field trial at a location close to a Bureau of Meteorology site near Adelaide, where the team cross-references weather measurements to fine-tune our calibrations specific to this unique climatic region.
In order to better understand the major issues that shape the Australian agricultural landscape, we embarked on a series of discussions with some of the most highly regarded experts in the country. We begin here in a conversation with Richard to tap into his deep experience working with growers, and to gain insight into how D3Ag is readying itself for the upcoming year. Richard helped us get a lay of the land for how issues like water use efficiency, spray timing, weather forecasting, and nutrient management are affecting growers across the continent today, and explains current trends shaping the agriculture of tomorrow.
Arable Labs: We'd like to start with a brief bio from you, Richard. How did you get into your field?
Richard Porter: My family has farmed in the mid-north of South Australia since the late 1800s, with the 6th generation now taking some control. I pursued undergraduate studies in Ag Science at Adelaide University, and then worked there for a while in Agronomy research. I held a few diverse roles with various seed, chemical and CRO (Contract Research Organisation) businesses before commencing my own CRO business in 2002. That business now operates as AgXtra and conducts work in South Australia, New South Wales and Victoria. I have witnessed, and participated in, the evolution of farming technology and methodology in the challenging and dynamic environments presented across southern Australia over the past 30 years, and the rate of technological advancement now is just so rapid and invigorating — it's truly a great time to be involved in agriculture.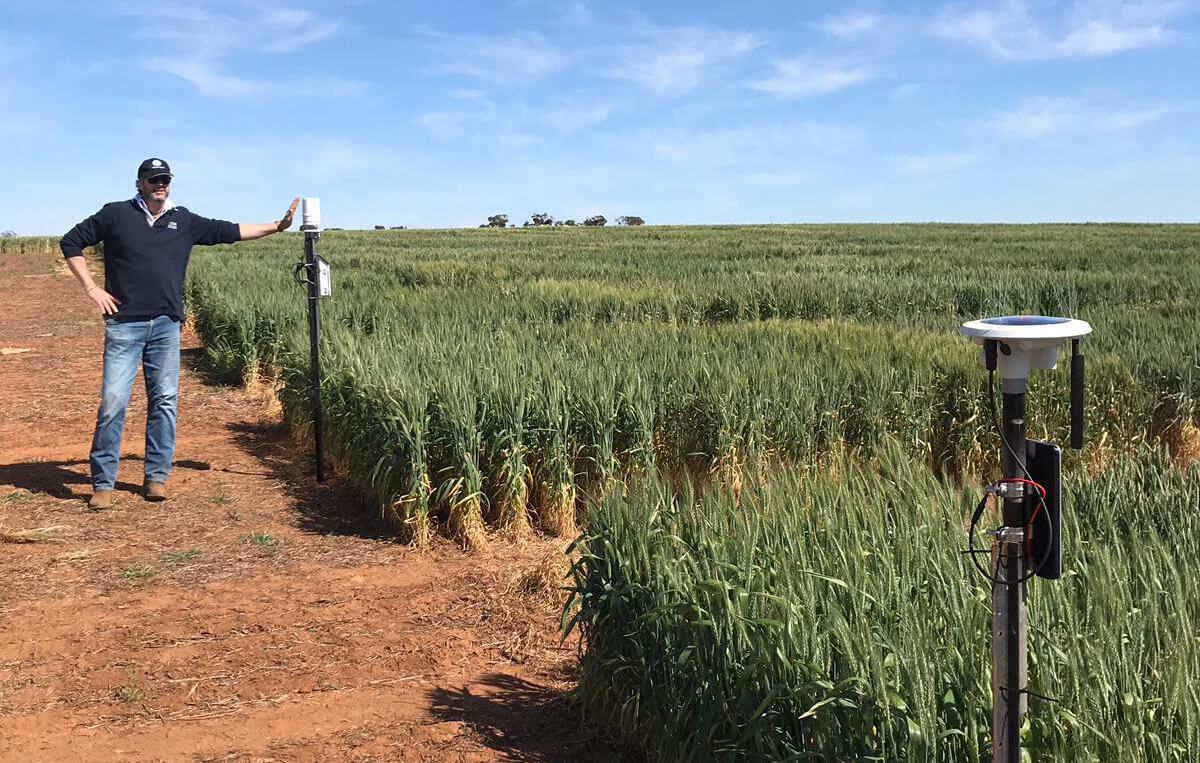 Richard Porter with calibration devices at the Tarlee Edstar site. (courtesy D3Ag)
AL: Tell us about the formation of D3Ag and how you plan to make an impact in Australian agriculture.
RP: We see a lot of great innovations come through various channels at AgXtra. Some in early stages of development, some with limited application, and some that are proposing a significant advancement in current practice. I wanted to pursue opportunities to move beyond development, and be involved in the commercial aspects of agtech. I have previously worked with both David and Darren at AgXtra in different circumstances, but thought we complemented each other's skill sets really well, and knew we would work well together. We are each driven individuals, and with our knowledge of the Australian industry, we are seeking to make a positive impact on production systems, and to drive success for our partners. An awareness to know and understand the limiting factors in terms of productivity and efficiency in agriculture, coupled with a desire to ease the operational or managerial burden on producers in addressing these limiting issues — this is what defines our approach.
AL: With the proliferation of agtech solutions, what made you choose Arable as a launch partner?
RP: We had looked at few options prior to Arable. I can recall the journey pretty clearly from the first time Jess [Bollinger, Arable VP of Strategic Partnerships] approached us to look at the Arable Mark. Within two weeks of installing the first device, I could just see potential upside in the technology. I truly believe this is a great tool, with diverse application potential — from research to dryland/arable cropping and viticultural/horticultural production systems. Since we started working with Arable, we have enjoyed working alongside some wonderful people, and importantly, people with whom share common values and passion.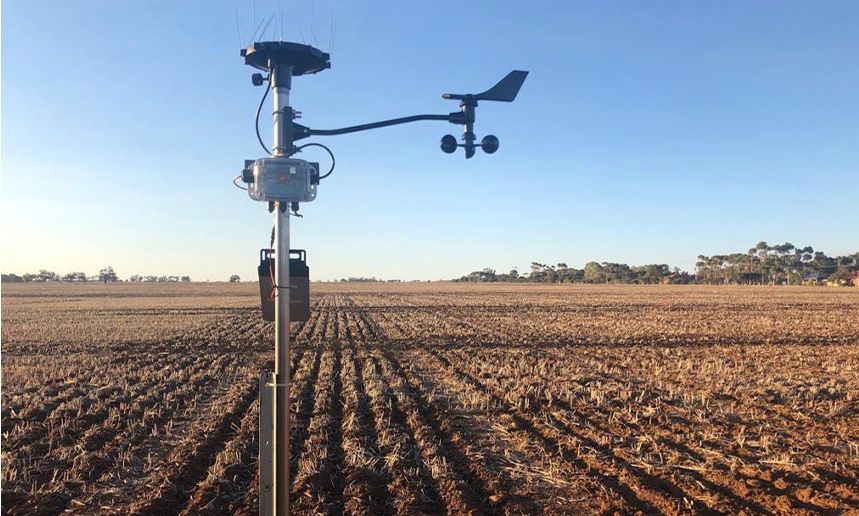 A Mark installed at the AgXtra site for its annual Crop Competition, open to University and High School teams in South Australia. (courtesy D3Ag)
AL: How will you help growers understand the best time to spray, in terms of cost-effectiveness, to avoid spray drift, and/or to comply with regulation & avoid penalties?
RP: Our growers today face challenges that previous generations have not had to contend with. And not all of these challenges are bad. The increase in external scrutiny on food production systems, the expectations of consumers as to the provenance and safety of their food — these things are not going to go away. We have some of the most efficient and effective producers in the world in Australia; they have evolved and adapted to the harsh environment out of necessity. And there continues to be pressure to adapt, possibly at a greater rate than previously experienced, as the frequency of severe weather events increases. Our ability to manage scarce resources, comply with regulatory standards, appease consumer concerns, and continue to farm with profitability all benefit from better information and improved decision support mechanisms. To simply detect temperature inversions, or breaches of harvest fire index thresholds, or to have growing degree day models to improve pest control activities — and to have this information based on real time observations in the actual field in which you are working — to me, that's a significant improvement for a producer.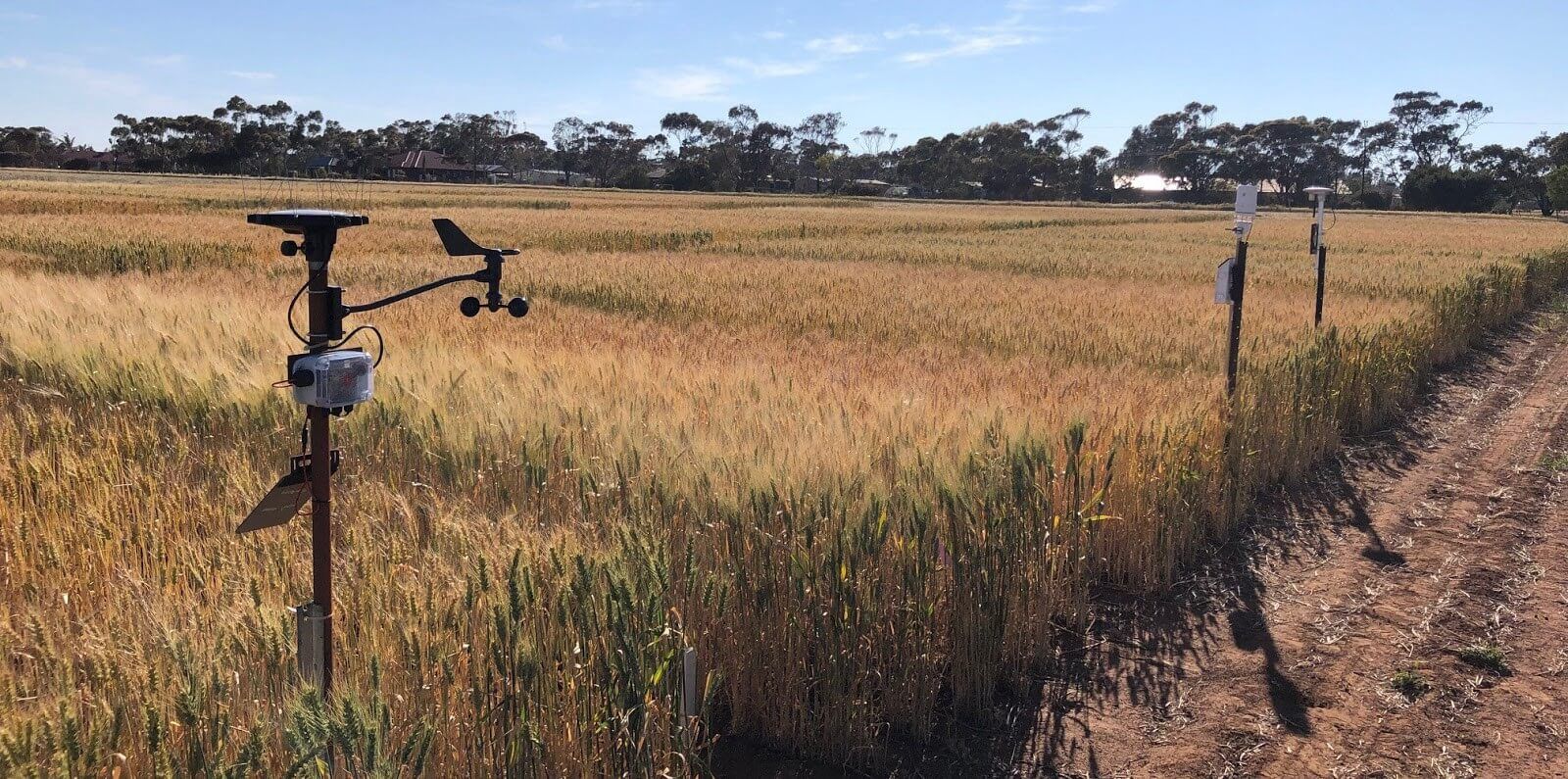 The same Crop Competition site, with mature wheat. (courtesy D3Ag)
AL: What are the main incentives for growers to adopt new technologies like the Mark 2? Would you say they are they becoming more progressive, and if so, why?
RP: The growers we work with now are certainly more progressive, or more open to adopting new technology, than previous generations. There are a number of reasons for this in Australia. The current generation of farmers haven't just relied on the legacy of methodologies from previous generations. More often they have been exposed to a broader work and life experience, and increasingly this includes tertiary education. So there seems to be an increase in acceptance of innovation in technology and methodology, and less persistence with historical cultural practices. We are also exposed more readily to the evolution of technology, which in itself has become more rapid over the past decade. Technology development pathways and early adopter experience are easily shared via social media, and more accessible information channels mean that new technology has "exposed form" quickly, and without borders. The economic imperative is also a significant driver for growers to create efficiency, save time, save money, or to find an easier path.
In Australia, we have (on average) lower input costs per hectare than other parts of the world. However due to our climate and low fertility soils (again, generally), our relatively low yields mean our costs per ton of produce are high. Consumer interest in where food comes from, but also in how it is produced, has arguably created greater scrutiny of production systems than at any other time. Ethical and sustainable practices are demanded of our growers. In response, growers need to evolve their understanding of this if they are to continue to meet consumer needs. Competing in a globalised economy and accepting global commodity prices subsequently means that often our final margins are tight, hence the need for efficiency in production.
Reducing costs and ensuring optimal use of inputs and resources, utilising improved genetic material, improving farm gate prices due to a strategic advantage (branding, direct marketing, value adding), or leveraging provenance and providing proof of the same, are examples where technology adoption has been enabling for growers. And Arable has a role to play here. Certainly in monitoring field conditions and water management (where applicable), but potentially also playing a role in key decision-making processes using disease prediction models, growing degree day models, harvest fire index threshold alarms, frost alerts, inversion alerts, etc.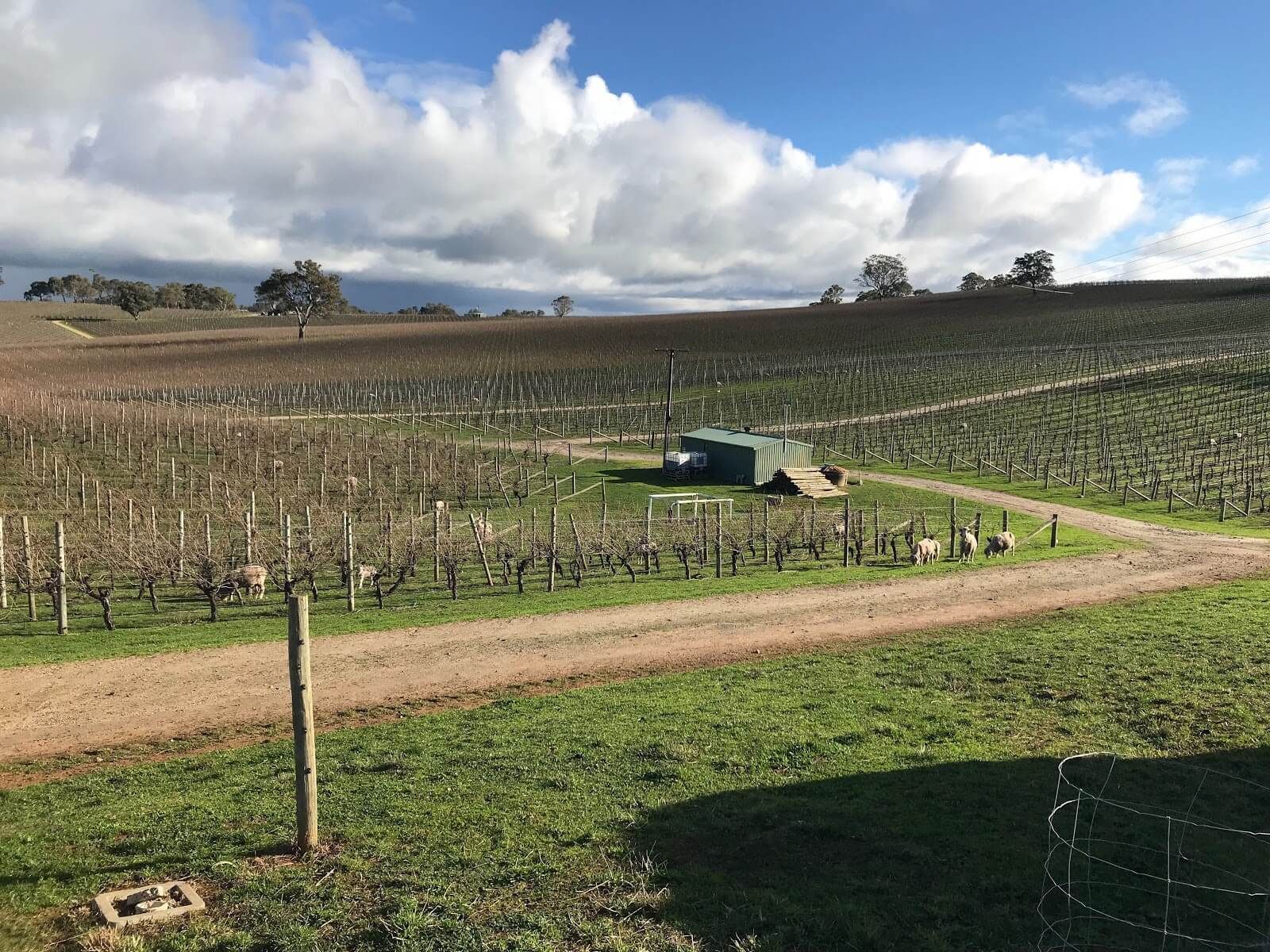 A wine grape vineyard in the Yarra Valley. (by Levon Minassian)
AL: How do growers keep track of whether their inputs (e.g., nitrogen) are having the intended effects? How can Arable's system help them with precision applications at different stages during the season?
RP: Nitrogen is probably a good example, with the advent of high analysis fertilisers becoming a key component of crop production over the past 50 years. For a long time, our broadacre growers would use a rule of thumb in determining N applications to their crops, which could be equally likely efficient, or not. In recent decades, we have shifted to utilising soil tests and stored soil moisture levels to determine application rates for paddock-specific yield and quality targets. This advent resulted in significant improvements in the efficiency of N application. More recently, we have seen the evolution of crop sensing (e.g., NDVI) and variable-rate technologies. We can now manage crops in smaller units than whole paddocks, meaning closer to optimal N application. In terms of Arable's measurements, I have been really impressed with the NDVI, the ETc/precipitation balance, and Chlorophyll Index features. I can track crop growth and general health via these indices, which assist in determining the optimal timing of applications, not just of N.
AL: While traveling through Australia, it struck us how much growers are increasingly focusing on the need to conserve water. What more can be done to accelerate this awareness? Is change happening fast enough?
RP: Water is definitely a focus when you are in the middle of a severe drought! Our dryland broadacre growers cannot "add water" during the season, but have become adept at ensuring every mm of precipitation is utilised to full effect. Water use efficiency in some of our more challenging areas is actually quite phenomenal, and we see rewarding yields now in events that historically would have been a write-off. We have a greater challenge in the irrigated areas, as we can control the amount of water applied to crops, within the limits of water allocations. You might think this would make the job easier, but it is an incredibly complex issue as to who has the rights to water as it flows past your property — especially at times when there is such limited quantities available.
Irrespective of this argument, the imperative is to utilise all water to produce optimal returns. Good irrigation management relies on accurate and reliable measurement/sensing. In answer to the question, there is an acute awareness of the issues; there is not a broad awareness of all potential solutions, but change is happening. A cycle of continuous improvement in our water management strategies and tactics is occurring across our irrigated industries. But if you ask drought-affected farmers right now, no, change is not happening fast enough.