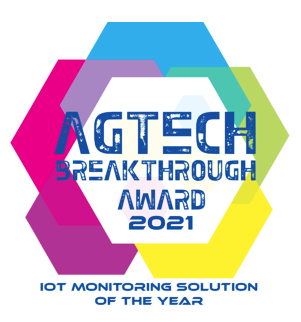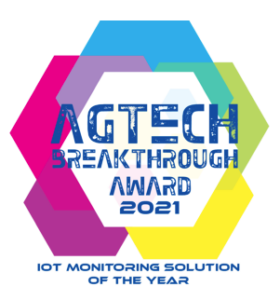 SAN FRANCISCO, August 18, 2021 – Arable, the leader in field intelligence for agriculture, today announced that it has been selected as the winner of the 2021 AgTech Breakthrough Awards "IoT Monitoring Solution of the Year" prize. Conducted by AgTech Breakthrough, a leading market intelligence organization that distinguishes the top companies, technologies, and products in today's global AgTech space, the awards recognize the best AgTech companies, products, and services around the globe.
Arable is a data and analytics company that delivers more productive and sustainable outcomes in agriculture through an integrated IoT platform that helps food and agriculture businesses gain visibility and insight into their farming operations. Arable works with the world's most innovative farms, agriculture input providers, and food companies in over 40 countries.
The Mark, Arable's groundbreaking sensing device that powers the company's data and analytics platform, provides real-time intelligence on weather, soil, irrigation, and plant conditions in one single solution. It is enabled by a sensor suite that is field tested for long-term reliability and accuracy and includes innovative technologies to measure precipitation, canopy architecture, evapotranspiration, and crop growth. Arable achieves scientific-grade accuracy through colocation of devices in an extensive global research institution Calibration/Validation network, and machine learning technology ensures continuous improvement of data accuracy.
The Mark can be deployed in any agricultural operation, from open field row and specialty crops to greenhouses and protected environments. Unmatched in its simplicity and ease of use, the device fits in a backpack, installs in minutes, and deploys at the touch of a button. It transmits data continuously, using a wide area cellular technology that enables communication 3x farther than cell phones, allowing for data access in some of the most remote production regions on Earth. Arable provides advanced crop analytics on this data, which can be accessed in Arable's web and mobile apps or in the platform of choice through Arable's partner APIs.
"We want to thank AgTech Breakthrough for validating our focus and vision with this award. Many of the challenges in agriculture today come down to a data problem: lack of accurate and reliable data costs farmers and enterprises billions in sub-optimally applied inputs, lost yields, and unmanaged risks," said Jim Ethington, CEO of Arable. "Arable's goal is to offer one centralized, scalable digital solution for the full range of agricultural stakeholders, from farmers and agronomists to global agribusinesses and food companies. The team at Arable is proud of the progress we've made towards this vision, and we are proud to receive recognition of that achievement."
The mission of the annual AgTech Breakthrough Awards program is to conduct the industry's most comprehensive analysis and evaluation of agricultural and food technology categories, including Internet-of-Things (IoT) and Artificial Intelligence (AI) based agricultural technologies, farm management, indoor farming, food quality, data analytics, and many more. This year's program attracted more than 1,500 nominations from over 15 different countries throughout the world.
"Current data systems are cumbersome, expensive, and siloed, requiring special knowledge to decipher and a hefty budget line to maintain. Arable's holistic view of field observations—from microclimate trends and soil moisture levels to plant growth stages and disease indicators—provides growers, researchers, and processors the necessary tools to make the critical link between decisions and outcomes, maximizing economic value throughout the supply chain," said Bryan Vaughn, Managing Director of AgTech Breakthrough Awards. "Arable's solution is our choice for 'IoT Monitoring Solution of the Year' and an indication that smart agriculture is putting food on the table while improving crop yields and sustainability."
Arable counts among its more than 350 customers some of the largest farms and food and agriculture businesses in the world, who rely on Arable for real-time intelligence on their fields. Arable has announced several key partnerships with global leaders in digital agriculture, including xarvio, BASF's digital farming platform; Netafim, the precision irrigation pioneer; and Claro, Brazil's leading telecom company. Arable is also partnered with leading academic, government, and non-profit organizations to advance agronomic research and sustainability, including: USDoE, USDA, University of Nebraska – Lincoln, UC Davis, NASA, Embrapa, and the Nature Conservancy.
####
About Arable
Arable helps the most innovative companies in agriculture to optimize decisions and understand crop outcomes through better data. Its integrated hardware, agronomic modeling, and software suite enable farmers, agronomists, researchers, processors, and food companies to understand the full crop system at the plant, field, and regional level. This helps reduce risk, improve productivity, and optimize for sustainability.
Arable continues to receive several recognitions, including the Irrigation Association's Best New Product of 2018, Plug & Play's Top 10 Ag Tech Companies to Watch in 2019, THRIVE's Top 50 Companies for 2020, and the 2021 AgTech Breakthrough "IoT Monitoring Solution of the Year" awards. Based in San Francisco, the Arable team is led by former Climate Corporation executive Jim Ethington, and brings a diverse set of experience across crop modeling, IoT, data science, software engineering, and farm management.
For more information on Arable's solutions and how the company is reshaping agriculture, visit arable.com. To see how they're building and expanding the team, view Arable's open positions at arable.com/jobs.
About AgTech Breakthrough
Part of Tech Breakthrough, a leading market intelligence and recognition platform for global technology innovation and leadership, the AgTech Breakthrough Awards program is devoted to honoring excellence in agricultural technologies, services, companies, and products. The AgTech Breakthrough Awards program provides a forum for public recognition around the achievements of AgTech companies and solutions in categories including farm management, indoor farming, automation, IoT and robotics, food quality, analytics, and more. For more information visit AgTechBreakthrough.com.