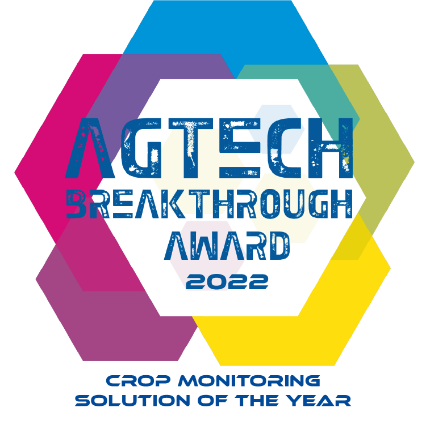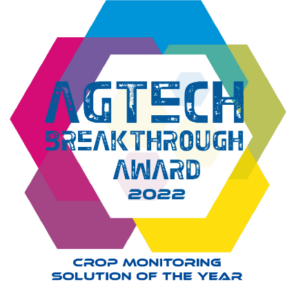 LOS ANGELES, August 25, 2022 — AgTech Breakthrough — a leading market intelligence organization that recognizes the top companies, technologies, and products in the global agricultural and food technology markets — today announced that Arable has won "Crop Monitoring Solution of the Year" in the 2022 AgTech Breakthrough Awards. This is Arable's second AgTech Breakthrough award, having been recognized for "IoT Monitoring Solution of the Year" in 2021.
Arable's crop monitoring solution eliminates the complexity of collecting and synthesizing in-field data and provides agricultural professionals with easy access to critical decision-making information, such as water stress, pest and disease risk, and nutrient response indicators. Armed with insight into the entire crop system, users around the globe are delivering enhanced results across a wide range of applications including irrigation management, crop input optimization, farm logistics, research and sustainability verification. Today, hundreds of world-leading agribusinesses as well as food and beverage companies are relying on Arable to help them plan more effectively, accelerate R&D efforts, develop sustainable farming practices and maximize economic value throughout the supply chain.
"We are at a critical juncture in agriculture: we need to produce more while consuming less land, water, and other inputs — all in the face of a changing climate," said Jim Ethington, CEO of Arable. "Arable's solution helps to address these challenges by making it easy to get reliable intelligence about your crop, weather, and soil. It also helps producers optimize decisions based on this information in order to be more productive and sustainable. We are honored to be recognized as the best crop monitoring solution for 2022, and could not be more excited to continue to deliver useful products that pave the way to the next generation of agriculture."
The Arable solution uniquely combines the latest sensing, connectivity, and material technologies with powerful models and advanced data science to deliver a broad range of analytics, alerts and insights with differentiated reliability and simplicity.
Powering Arable's intelligence and insights platform is the Arable Mark — a portable, solar-powered in-field sensing and monitoring Internet of Things (IoT) device that deploys in less than 10 minutes. Not only does the Arable Mark offer unmatched simplicity, it also features a suite of cutting-edge innovations including a full set of pre-integrated weather sensors for tracking environmental variables such as temperature, precipitation, humidity, etc.; a seven-band spectrometer to detect crop stress and estimate water needs; an acoustic rain gauge that eliminates ongoing device maintenance; the latest IoT telecommunication technologies to enhance connectivity range; and powerful cloud processing to enable machine learning predictions. All of these technologies work seamlessly together to capture and report on the entire weather-plant-soil continuum, putting unprecedented levels of visibility and control at the fingertips of every Arable user.
The mission of the annual AgTech Breakthrough Awards program is to conduct the industry's most comprehensive analysis and evaluation of agricultural and food technology categories, including IoT and artificial intelligence-based agricultural technologies, farm management, indoor farming, food quality, data analytics and many more. This year's program attracted more than 1,600 nominations from over 15 different countries throughout the world.
"Farmers, agribusinesses and food companies alike see promise in digital transformation, but significant barriers — such as unreliable data sources and disconnected, cumbersome systems — have stood in the way of true progress," said Bryan Vaughn, managing director of AgTech Breakthrough. "Arable is breaking down these barriers with their zero-hassle crop monitoring solution that puts the power of digital agriculture in the hands of growers, researchers and advisors around the globe. Congratulations again this year — this time for 'Crop Monitoring Solution of the Year.'"
###
About AgTech Breakthrough
Part of Tech Breakthrough, a leading market intelligence and recognition platform for global technology innovation and leadership, the AgTech Breakthrough Awards program is devoted to honoring excellence in agricultural and food technologies, services, companies, and products around the world. The AgTech Breakthrough Awards program provides a forum for public recognition around the achievements of AgTech companies and solutions in categories including farm management, indoor farming, foodtech, automation, IoT and robotics, analytics, and more. For more information, visit AgTechBreakthrough.com.
About Arable
Arable helps the most innovative companies in agriculture optimize decisions and understand crop outcomes through better data. The company's integrated hardware, agronomic modeling and software suite enables farmers, agronomists, researchers, processors and food companies to understand the full crop system at the plant, field and regional level, which helps to reduce risk, improve productivity and optimize for sustainability.
Arable continues to receive recognitions, including the 2021 AgTech Breakthrough IoT Solution of the Year, THRIVE's Top 50 Companies for 2020, Plug & Play's Top 10 Ag Tech Companies to Watch in 2019, and the Irrigation Association's Best New Product of 2018. Based in San Francisco, the Arable team is led by former Climate Corporation executive Jim Ethington and brings a diverse set of experience across crop modeling, IoT, data science, software engineering and farm management.
For more information on Arable's solutions and how the company is reshaping agriculture, visit arable.com.