Caburé Leads the Way in Argentina
Data science can be abstract, but what Arable provides for our customers is clear. We give growers around the world the agricultural information they need to make sound decisions in real time. In Argentina, Caburé is the team that brings Arable into the field. Here's how they help their clients succeed.
Felix Casabal, who co-founded Caburé in 2018 with mathematician Sebastian Sosa, leverages his background in agriculture and business to engage farmers, seed breeders and agronomists who want to make data-driven decisions. Gonzalo Villañe Tapia, an IT engineer, rounds out the company as a partner. Together, they offer a platform of integrated weather and field data streams, available through a web and mobile app by monthly subscription. Since their early days reporting rain events via Twitter, they continue to push the envelope with innovative ideas that deliver actionable agronomic insights to growers all over the country.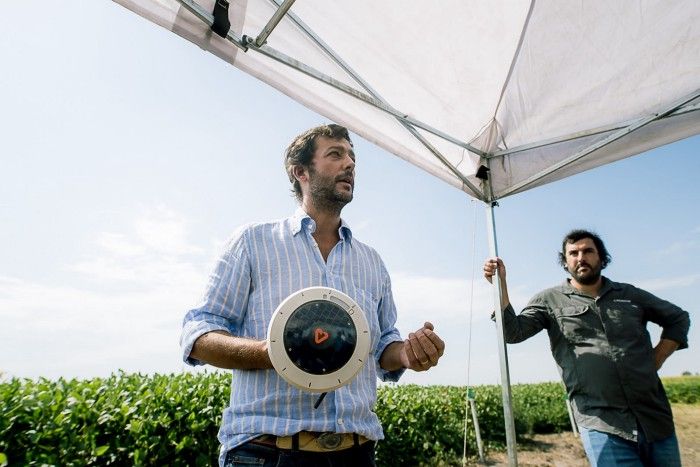 Felix Casabal (L) on a field trip organized by Tomas Hnos. (Photo courtesy Felix Casabal)
Flexibility is key in Argentina, and solutions must be tailored to needs in the field. "We strive to recognize the pain points that each crop presents during the analysis and decision process," Felix says. Customers can connect their own weather stations to the Caburé platform, or they can add the Arable Mark 2 and the suite of sensors that come with it. Either way, he and the crew work as a team with their clients to ensure their ongoing success; this ethic of collaboration and learning is key to their work. "It's our philosophy that the job does not end with the installation of a Mark device. That's just the beginning."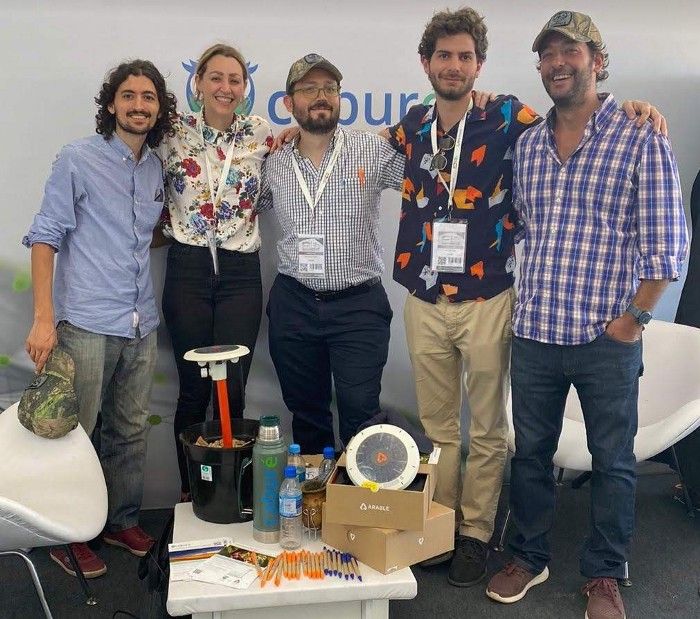 The Caburé & Arable crew at ExpoAgro in Argentina, March 2020. (L-R) Gonzalo Villañe Tapia, Jess Bollinger, Sebastian Sosa, Walter Jove, and Felix Casabal. (Photo courtesy Felix Casabal)
Caburé's dedication to problem-solving results in strong partnerships with industry leaders. In addition to agricultural mainstays GDM and Bayer, the team recently started working with SANPA Semillas, an innovative seed producer, to install Mark 2 devices in their fields. With a commitment to ethical and responsible resource management, the company is now able to track climate data and align their practices with this purpose through experimental R&D in corn, wheat, soybeans, sorghum, sunflowers and oil seeds. RAVIT Agro, an Argentinian agtech company with a big mission–to build a collaborative data network that will help farmers better understand the seasonal impact of more than 100 variables–has just deployed several Mark 2 devices using analytics provided by Caburé.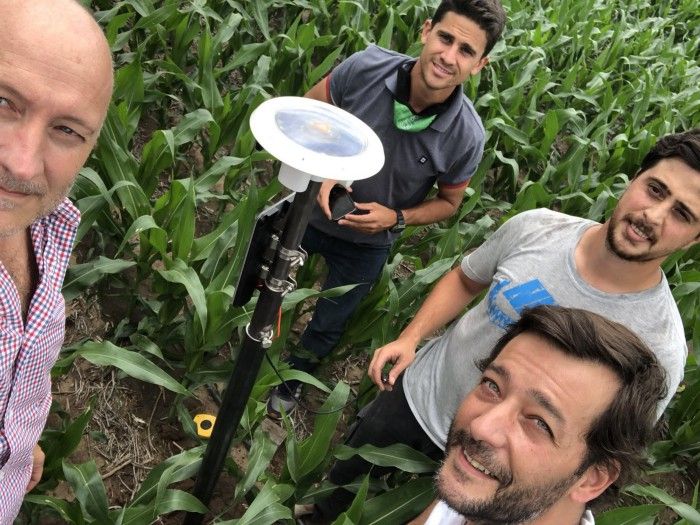 Felix Casabal (bottom right) with Esteban Tronfi (left) and the RAVIT and Dos Ríos Agro teams deploying in Despeñaderos, Cordoba in January 2021. (Photo by Esteban Tronfi)
Renowned agronomic engineers working on solutions to the unique climate challenges Argentinian farmers face also rely on Arable's data. Agronomist Gustavo Thiessen, a grains specialist known for pioneering low-density trials in corn in the southern part of the Buenos Aires Province, uses our Mark devices and works with Caburé to strengthen his research inputs. Access to Arable's accurate crop and climate data streams, which are updated every 30 minutes in real time, allows him to compare and adjust genetic and management decisions to each particular environment. Companies such as Dekalb, Nidera, Limagrain, Don Mario, Illinois, NK Semillas, Brevant, Macro Seed, La Tijereta, and Pioneer participate in Thiessen's trials.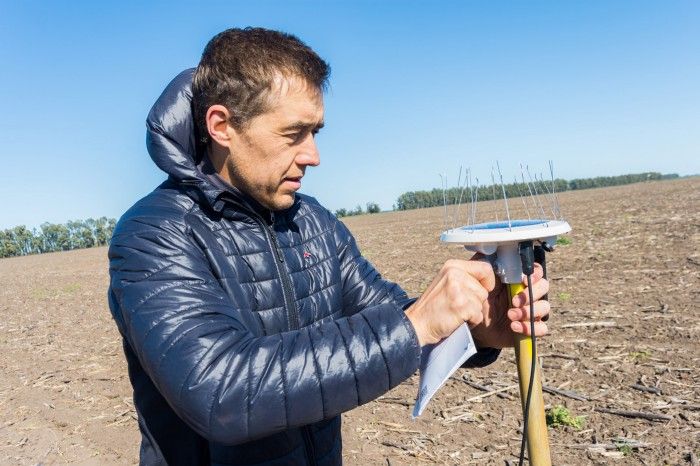 Gustavo Thiessen deploying a Mark 2 in Coronel Dorrego, Buenos Aires.
Matias Cambareri is another scientist in the region who relies on Mark 2 devices from Caburé. Matias, an Agricultural Engineer specialized in agrometeorology, is a private advisor, teacher and researcher in water management at the Faculty of Agrarian Sciences (UNMdP) and the National Institute of Agricultural Technology (INTA). He uses the Mark 2, which he notes was easy to install, to track changing rain and water patterns and other findings that he publishes in a monthly report that goes out to growers, agricultural advisers and industry experts.
Like the industry leaders and researchers who rely on Arable technology, Walter Jove, Arable's Latin America partnerships manager, enjoys working with Caburé. He travels from our headquarters in California to spend days in the field with Felix and the team to exchange ideas on how Arable's technology and insights can be optimized by South American agriculturalists. "Aside from being experts in Argentinian agriculture and technology in their own right, Felix and his team at Caburé are doing really important work with some of the most innovative and successful growers in the country," Walter says. "They have a clear understanding of the importance of weather and plant data for successful agricultural operations. Plus, they're just really fun to be around–they can really put on a show with their bbq and folk singing skills–and I look forward to being able to travel back down to see them soon."