Who We Are: Vasavi Vadlamudi, Principal Software Engineer
Meet Vasavi Vadlamudi, Principal Software Engineer at Arable. Vasavi works in a team that builds cloud software that is the backbone of Arable's web and mobile applications. She also has an incredible edible garden (or three) at home. Here's how she does it all.
Before the pandemic, Vasavi worked on a modest backyard garden filled with a good number of fruit trees, flowers, and a few raised beds and containers filled with vegetables. As the lockdown hit and isolated her at home, she turned to her garden and decided to try a hand at expanding it.
Realizing that the backyard was already overtaken by trees, Vasavi decided to join a local organic community garden and signed up for the largest allotment available. "I was quite surprised that there are so many community gardens in San Jose. Usually there is a waitlist, but I guess I got lucky," she explains.
She spent the cold winter days shoveling in tons of compost, putting in raised beds, and readying the plot for spring. Now, she proudly harvests all sorts of vegetables at the plot. "I am in awe of what I am able to grow at this plot. It's like I hit a jackpot!" she says. "I have not only stopped buying vegetables, I can now give away produce to my friends and neighbors!"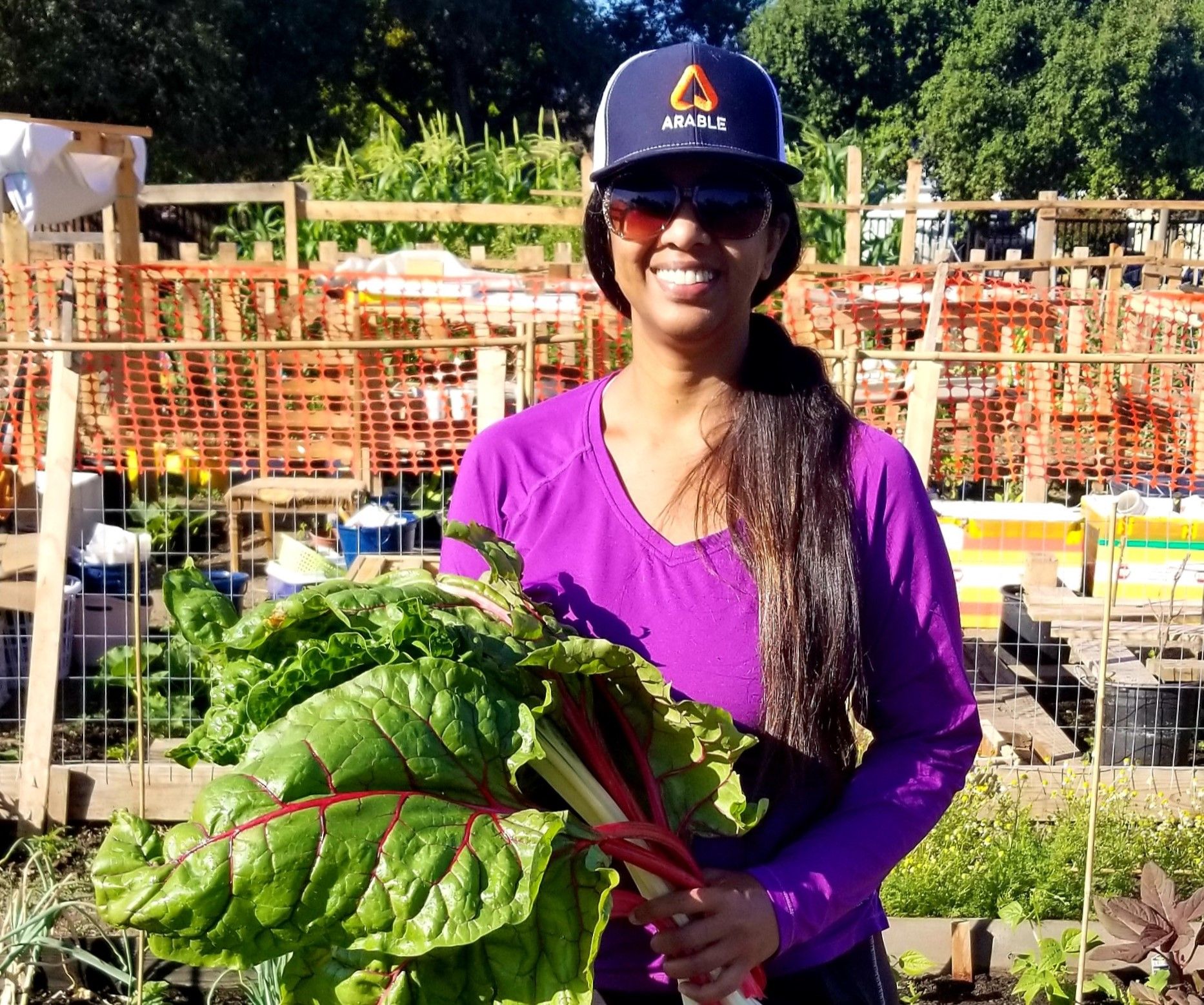 Vasavi at the community garden with her giant rainbow chard.
Vasavi did not stop at the community garden plot. After setting it up, she turned her attention to her front yard. "I felt so guilty about watering the lawn," she says. "I couldn't bring myself to do it every summer, so if it's going to die anyway, why not convert it to something useful?" Gardening in northern California, where drought is now normal, Vasavi replaced the grass with raised beds and planted organic vegetables. "It's like edible landscaping now," she explains.
"I think I added 30 or more varieties to my houseplants," she says. She also built a greenhouse in her garage so she could start seeds for all kinds of exotic vegetables along with kohlrabi, cauliflower, peppers, tomatoes, and anything else you'd want for dinner. All in, she now tends about 900 square feet of land with a good amount of containers also in the mix.
Recently, long summer days inspired her to try growing tropical fruit trees like mango, lychee, guava, and sapota, sweet flavors savored in Mumbai where she grew up. "If I get a mango in my backyard," she says, "I would be ecstatic!"
Growing organic food at this scale is new for Vasavi. It's hard work that's unpredictable, yet relaxing and rewarding. She compares it to the early days of her engineering career when she had little experience and felt she learned something new every day.
"It's all an experiment," she says. "When I'm gardening I'm not thinking about anything else. It's kind of a meditation for me. If I do this, then what's the side effect or outcome? I have no clue. There's no expectation and no judgement."
Her career today is a different story. Leveraging a deep resume filled with top-shelf names like Apple, Cisco, and Expedia, she pivoted to an agtech startup to work with cutting-edge software paradigms and technology aimed at precision irrigation. Although that company could not sustain through the pandemic, Vasavi's passion for sustainability in agriculture remained. "I felt like I had unfinished business here, I felt I could do so much more," she says. "I was so relieved when I got the job offer from Arable. Now I can continue my work in agtech."
Less than a year later, she is ready to deploy Arable Mark devices at the community garden and in her backyard. "I'm going to collect data at my plot and see what's going on there. I want to look through the customer's eyes and see how best we can help them," Vasavi says. "My aim is to help put the technology in place to figure out how we can best grow food sustainably. When your hobby ties in to almost exactly what you do at work, that's just a bonus."